WHAT TO DO: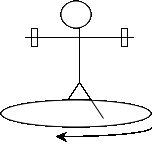 STAND ON THE TURNTABLE WITH A DUMB-BELL IN

 EACH HAND.

STRETCH YOUR ARMS STRAIGHT OUT AT YOUR SIDES.
HAVE A FRIEND START YOU ROTATING SLOWLY.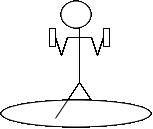 WHAT HAPPENS WHEN YOU PULL THE DUMB-BELLS IN TO YOUR SIDES?
WHAT HAPPENS WHEN YOU STRIGHTEN YOUR ARMS AGAIN?
ANSWER:  When you pull your arms in, you speed up.
When you straighten your arms back out, you slow down again.
WHY DOES THIS HAPPEN?
Cautions, Warnings, or Safety Concerns:
The volunteer may get dizzy from spinning.
The volunteer should be careful in getting on/off the rotating platform.
Discussion:
Once the volunteer is spinning, he or she has some amount of angular momentum, L, which must be conserved. This is given by L = I*ω. When the volunteer brings his or her arms into the center, the moment of inertia I is decreased. Since L is constant, ω must increase, which is what we observe.
Original 1918 Museum Exhibit