This pair of parabolic mirrors is sometimes referred to as a mirascope.
What to Do:
Look at the object at the top of the hole in the mirascope.
WHAT HAPPENS IF YOU LOOK AT THE OBJECT FROM DIFFERENT ANGLES?
Answer: You can see different portions of the object. If you look straight down into the mirascope, you can see the actual object rather than just its image.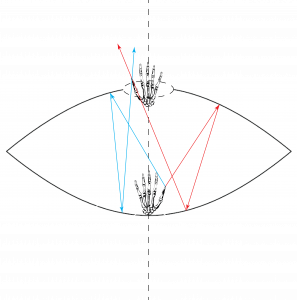 What is Going On?
The mirascope is made of two convex parabolic mirrors that face each other. Light from the object inside, which sits at the bottom, reflects off the top and bottom mirrors before the light rays (red and blue arrows) meet again to form an image.
In this case, the mirrors produce a real image. As you look at the image from different angles you are able to see different portions of the image, just as you would for any object.
Take a look at the Convex Mirror exhibit to see another example of a real image that seems to float in space.