The Wonders of Physics traveling show is back! After a five-year hiatus, the department is pleased to announce that we have hired a full-time outreach specialist and restarted the program.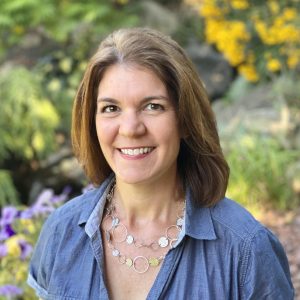 Haddie McLean, a former meteorologist with WISC-TV / Channel 3 in Madison, began her new role as the Wonders of Physics outreach coordinator on August 9. After a 21-year TV career, McLean says she was looking for a new challenge — and any job that didn't require her to wake up at 2am was just a bonus.
"I love talking to people about science. And I love seeing kids' faces light up when they understand a topic or when they learn something new," McLean says. "I was able to do a little bit of that in my job in TV. But in this position, I'll get to do a ton more, and that's what drew me to it."
McLean's primary role with The Wonders of Physics will be to further develop and perform the traveling show. She will also play a lead role in the development and performance of the annual shows in February, as well as participating in science outreach events and connecting with Wisconsin science teachers.
The Wonders of Physics traveling show started in the late 1980s as an offshoot of The Wonders of Physics annual shows, which first ran in 1984. Two graduate students at the time, David Newman and Christopher Watts, approached Prof. Clint Sprott — the creator of The Wonders of Physics — and suggested that they take the show on the road.
Over the years, The Wonders of Physics traveling show has gone from an all-volunteer, graduate student-led effort to one that has employed part- or full-time outreach specialists. Past funding has been provided by NSF and DOE. Now, thanks to the support of generous donors — including a successful Day of the Badger fundraising campaign — the department expects that the traveling show will be run by a full-time staff member for years to come.
"I'd like to make this show accessible to all ages, all walks of life," McLean says. "I'd like to hit all areas of the state, if possible, and bring the university to the kids that wouldn't otherwise get a chance to experience all that our campus has to offer."
McLean is already busy prepping the show and hopes to be in schools by late fall 2021 (if university and school district COVID-19 policies permit it). She expects to have a general show available that is as hands-on and interactive as possible. She also plans to make the show customizable as needed, where she can work with teachers to focus the performance on the specific areas of physics that they are teaching at the time.
"My hope for the traveling show is that it's fun and engaging, gets kids excited, and helps spark an interest in the next generation of scientists," McLean says.
Sprott, now an emeritus professor with the department who still stars in the annual shows each February, is enthusiastic that McLean will be involved in those shows and that she is reviving the traveling show.
"After several difficult years, I'm delighted that Haddie McLean has joined us to head the Department's nearly 40-year tradition of physics outreach and public education for people of all ages throughout Wisconsin and beyond," Sprott says.
Anyone interested in scheduling The Wonders of Physics traveling show can email wonders@physics.wisc.edu or visit wonders.physics.wisc.edu for more information.
The shows are free of charge, but donations are encouraged.
Related: See the winning entries from The Wonders of Physics 2021 video contest!