Welcome to the Ph.D. in Physics program at UW–Madison!
The first Ph.D. in physics at UW–Madison was awarded in 1899, for research on "An Interferometer Study of Radiation in a Magnetic Field." Over 1,500 individual Ph.D. research projects have been completed since.
Our department has a strong tradition of graduate study and the research that is essential to the Ph.D. Degree. There are many facilities for doing world-class research, and the Ph.D. research program involves leading-edge activities in Madison and at research facilities around the world. Over 175 current graduate students conduct research in one of the Department of Physics faculty groups or with an affiliated faculty group in departments such as Electrical and Computer Engineering or Astronomy.
If you have any questions about the program, please direct them to Michelle Holland, graduate programs coordinator, or Dr. Jeff Schmidt, director of graduate studies.
Apply for the Physics Ph.D. Program
Prospective students should apply for admissions through the Graduate School. Applicants must:
Satisfy the Graduate School requirements with respect to undergraduate grade-point average, bachelor's degree, and English proficiency
Submit three letters of recommendation, GRE general test, Physics subject GRE test, official transcripts, a resume/CV, and a personal statement. NOTE: The Admissions Committee will NOT require GRE test scores to be submitted for any Fall 2021 applications, and will not take into consideration any submitted GRE test scores in our review process.
The application deadline to apply for admission to the Physics Ph.D. Program is DECEMBER 15th. Application fee waivers are available; please contact Michelle Holland for more information.
All completed applications received by that date will be considered. The program does not admit on a rolling basis. Students are usually informed of their admission status in early spring.
Funding
All admitted Ph.D. students are provided with a guarantee of five years of financial support. Typically, a graduate student is first appointed as a teaching assistant. Teaching assistants assist faculty members in the introductory physics courses, generally by teaching discussion and laboratory sections. Later, as a research assistant, the student works with a major professor on a mutually agreed research project. Tuition is remitted for teaching assistant and research assistant appointments greater than one-third time or greater.  Most graduate assistant appointments are also eligible for a comprehensive health insurance package.  All students are responsible for their own segregated fees, which are about $600 per semester for full-time students, and any additional university fees.  Further information about the various types of assistantships at UW-Madison can be found on the Graduate School website.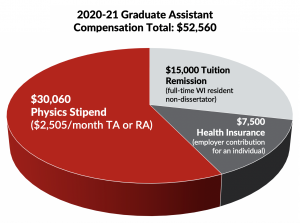 FAQs
This is an accordion element with a series of buttons that open and close related content panels.
Can I apply to more than one graduate program at UW-Madison?
Yes!  With one application to UW-Madison, you can apply to 3 different graduate programs.  Please keep in mind that you can only submit your application once and will need to submit by the earliest deadline for the 3 programs that you choose.  For example, the Physics Ph.D. program application deadline is December 15th.  If another program that you apply to has a January 1st deadline, you must submit your application by December 15th to ensure it is received by the earlier deadline.
What is the application deadline?
The Physics Ph.D. application deadline is December 15th.  All application materials must be received by this time to ensure consideration.  Test scores and letters of recommendation should be submitted by the deadline.
Where should I send my GRE & TOEFL scores?
The Physics Ph.D. program requires the official test scores (GRE and TOEFL) to be sent directly from ETS to UW-Madison.  The UW-Madison institution code is 1846.  Please be sure your test score report shows that your scores were sent directly to UW-Madison.  Test scores are loaded every few days during the peak admissions season by the UW-Madison Graduate School.  You can check your Graduate School application status to see if your test scores have been received.
When will admissions committee decisions be made?
All completed applications are made available to the Physics Ph.D. Admissions Committee after the December 15th deadline.  The program receives over 450 applications each year and all completed applications are fully reviewed by the Admissions Committee.   All applicants will be informed of the admissions decision by the end of January.  All applicants who are accepted will be invited to prospective student visit weekend to be held in February each year.