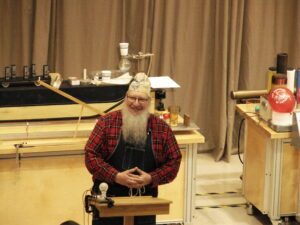 Colleagues and friends are encouraged to send thoughts and memories about staff member Peter Weix, who passed away January 13, 2023. Please email your submission to Sarah Perdue (saperdue@wisc.edu).
Bhavya Kenia
It is deeply shocking and saddening to hear this news. I knew Peter through my time at UW-Madison while working with WiPPL, having asked for his help on the pager more than often. As much as I have learned from him, I am thoroughly indebted to him for all that he taught and shared with me, and grateful to have come across him in my life. No number of words can express the void Peter has left, but I know I say this for everyone that his presence and time with us has been precious. I pray for his soul and his family, wishing them strength in their loss.
Ellen Zweibel
I did not work with Peter, but I was always delighted to see him. He was always friendly. And he seemed to carry a 4 dimensional map in his head of everything  in space and time, where it was, where it should be.
Steph Kubala
Peter Weix meant so much to me and had a huge positive impact on my experience as a graduate student on MST. I suspect that Peter was a person about which a lot of people would say this. I admire the impact he had on every community that he was a part of. I obviously can't speak for every one of these communities but I'd like to share a few experiences of my time with him here at UW.
Peter demonstrated a genuine, rather than the more typical nominal, interest in contributing to outreach efforts to bring physics to the local community. During my second year at UW, he recruited me to join the "Wonders of Physics" show which Clint Sprott, et al put on every year (at no cost to the attendees) to showcase the wonders of physics in an engaging and awesome way to the children and adults in attendance. I must admit, I had no idea just how big of a time commitment it would be. I've participated in outreach consistently throughout my graduate, undergraduate and high school years. Nothing took as much time as that show did, but it was all done extremely well and with utmost care. Peter took the time to participate in this noteworthy effort every year. As a scientist, it is often easy to forget that one of our duties, as employees of the public, is to communicate our knowledge and passion for science to them. I never heard Peter turn down an opportunity to do so. 
I also admire his commitment to safety in our workspaces. Again, this is something that, in a rush to produce results or to get an experiment working on schedule, I have unfortunately seen be deprioritized from time to time. To paraphrase something I once heard from my advisor, safety was not just a priority to Peter, it was a value. Life is fragile. I appreciate the care Peter put into valuing everyone he worked with through this work. 
Peter also mentored and taught me so much. His office neighbored my lab space and when I could not track down the person originally tasked with showing me the ropes on any number of things, Peter was often one of my go-to work arounds and was more than happy to take a moment to help. Even on a weekend he would take a phone call to answer any questions and was gracious and quick to point out my mistake when I had neglected a step on one of his indispensable checklists. 
I counted him as a friend and I will miss hearing his stories and drawing from his wisdom and knowledge. I will even miss his voice on the pager system whenever I am back at UW.  
I feel the loss of Peter deeply and hope that these memories can provide some comfort to those who were close to him. 
Haddie McLean
I met Peter shortly after I started working in Chamberlin. He walked by as I was trying to climb over a huge pile of "stuff" blocking access to a bulletin board outside my office door. He told me he would make sure that pile disappeared because it didn't belong there anyway. The next day I came to work, the pile was gone! Peter and I quickly became friends. It didn't take long to learn that I could always count on him if I needed anything. Whether it was a vacuum pump for a demo, advice, an impromptu tour of the MST, or letting his students work with me when I needed extra hands, he helped any way he could. His appreciation for The Wonders of Physics annual show was evident to all who worked with him. His guidance was key in putting together the show each year and his presence on stage will be sorely missed. I'll also miss the jingling sound of his keys as he walked down the hallway and the bright smile that would follow as he peeked his head into my office just to say "Hi!"
Stewart Prager
I was deeply saddened to learn of Peter's passing. Twenty years ago, we were fortunate to hire Peter as a technician in the plasma group. I had the good fortune of working with Peter for about eight years. It was a pleasure to watch Peter grow in his position, both technically and managerially, eventually taking on major leadership responsibility for technical operations of the MST experiment. This progression is well-described the department obituary. But, Peter was also a joy to chat with, to work with, to learn from. He always had a warm, authentic smile. Always had time to converse, to help anyone. He cared deeply about the safety of the experiment, the well-being of his co-workers, those he supervised, and the overall health of the larger group. Peter was an open person, sharing his interesting experiences from the past, such as in the Navy, and from the present, such as his experiences moving settling into New Glarus. He was a person that naturally spread good cheer, and enhanced the environment wherever he dwelled.  I am sure that he will be missed enormously by the many people who benefitted from knowing him.
Clint Sprott
Peter first crossed my radar when he showed up on a Saturday morning in February of 2005 to volunteer his help with The Wonders of Physics and was called on at the last minute to figure out the rather complicated audiovisual system in 1300 Sterling Hall without any instruction or experience. He saved what could have been a disastrous presentation. I was so impressed with his calm, competent performance that I asked him to coordinate the annual presentations the following year after the death of Tom Lovell who had helped me start the program twenty years earlier.
Peter became a key component of the program, providing props, talent, advice, funny costumes, witty dialog, and a calming influence on us all for the nearly 200 shows that he coordinated over the following years. He was my rock since I knew that whatever went wrong or needed attention, he would fix it. He would play any role that was asked of him, and he did it with flair and enthusiasm. The humorous on-stage banter, often ad-libbed, between him and the other characters in the show is what made The Wonders of Physics so much more than a physics lecture.
The Physics Department has lost a great asset, and I have lost a true friend.
Alex Squitieri
Peter was a central figure in the plasma group , a constant source of energy and inspiration with and for others, and not just at work. As the safety officer for the MST experiment, his annual fire extinguisher  and CPR training brought people in the group together, and encouraged an old-fashioned public spirit. His devotion and effort to the Wonders shows not only delighted families for years but prodded others in the group to engage in both the shows and in outreach with the Physics Fair and shows outside the department as well.
The undergraduate workers who left backpacks in room 2279 over the years came with many different majors (or none) and were sometimes a bit intimidated initially, but Peter's (usually) cheerful manner and thorough direction got them settled in, many stayed until they graduated. Those workers made real contributions to plasma operations over the years, their skill and responsibilities growing under Peter's direction.