Most questions about waste handling on the UW-Madison campus are answered in the Environment, Health & Safety recyclopedia and the Office for Sustainability recycling page.
Specific procedures within the Physics Department are mentioned below.
Electronics (computers, monitors, peripherals)
Personally owned items can be taken to DoIT. University owned items can be sent to SWAP. The Physics IT group can handle sending things to SWAP for you: contact help@physics.wisc.edu.
Ink-jet printer cartridges can be taken to the e-waste collection towers on campus (e.g. Education Building). Look under e-waste on the UW's recycling page.
Toner cartridges can be placed on the metal shelf in the loading dock next to the parking spot for the Physics van.
Full Ricoh waste toner bottles can be sent back to Ricoh.
Batteries
lead acid batteries
Place all lead acid batteries in the loading dock on the floor next to the dumpster along with a sign labeled "For Waste and Recycling Pickup."
rechargeable batteries such as NiMH, NiCad or Li-ion
Take these batteries to the e-waste recycling towers on campus (e.g. Union South). See the section on batteries on the UW's recyclopedia.
alkaline batteries
You can take these batteries to the e-waste recyling towers mentioned above, but we have been told they will just be filtered out and sent to the landfill. This article explains why.
Sharps
Broken glass should be placed into a cardboard box.  Tape the box shut, label it "Broken Glass Ok to Trash" and then put it out for the custodians to pick up.
Needles and razor blades or other small sharp metal can be disposed of in a sharps container and then the sharps container should be placed in the MERI bin in the loading dock. Peter Weix has a sharps container in his office for those that want to dispose of them there.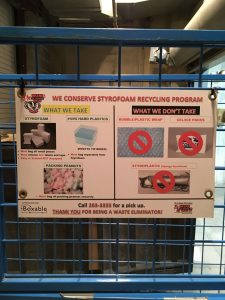 Styrofoam
There is a Styrofoam collection cart in the loading dock.  It is located with the cardboard collection bins, behind the vertical sliding doors. Please remove all tape and labels. Please only include rigid (breakable) pieces, not flexible pieces, which are a different material not covered by the Styrofoam recycling program. Packing peanuts and #4/#5 hard plastics are also accepted. They should be bagged.