37 years after joining the faculty of the department of physics at the University of Wisconsin–Madison, Prof. Bob Joynt has announced his retirement at the end of July.
Joynt is a condensed matter theorist who began as an assistant professor in 1986. His early work focused largely on superconductivity, including high temperature superconductors. He also played an important role in better understanding the Quantum Hall effect, dating back to his graduate work and continuing here. After a decade and a half, his career took a fortuitous turn when he wrote a quantum computing grant proposal with physics professor Mark Eriksson and other researchers in engineering.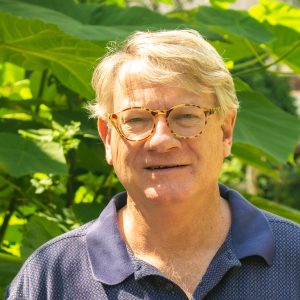 "That was really a pivotal point in my career, and I've been doing quantum computing mostly ever since," Joynt recalls. "Change is good, I found. I enjoyed that change and I'm glad I did it."
His work for the past 20 years has mainly focused on understanding the origins of noise and decoherence in quantum systems and in the design of semiconductor structures for quantum computing. Joynt is a fellow of the American Physical Society and a UW–Madison Romnes Faculty Fellow. He has co-authored over 175 peer-reviewed publications and trained 26 doctoral students, in addition to numerous postdocs and MS Physics­–Quantum Computing students.
Joynt's academic and research achievements alone comprise an illustrious career that any retiring professor would likely be happy with. Still, his contributions to the department span so much more.
Joynt served as department chair from 2011-2014, for which he focused his efforts on department fundraising. He was responsible for starting the Board of Visitors, a group of people, mostly in industry, with strong ties to the department. The BoV advises and assists on department priorities, plays a leading role in fundraising, and provides a professional network for current students and alumni. From 2017-2022, Joynt additionally served as the department's Associate Chair for Alumni Relations and the Board of Visitors.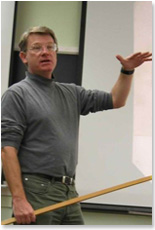 Around 2016, Joynt noted that doctoral students with quantum computing research experience were in such high demand that employers were often entering bidding wars for them. Was there a way to meet the demands of the quantum computing workforce by training students in a year or two? And so, thanks to Joynt's vision and persistence, the MS in Physics–Quantum Computing program — the first MS in quantum computing in the U.S. — enrolled its first cohort in Fall 2019.
"We take about 25-30 PhD students each year, and now we take about the same number of MSQPC students," Joynt says. "It's become a big part of the department's educational program."
Adds Mark Eriksson, Department Chair and John Bardeen Professor of Physics: "Our department's MSPQC program was the first in the nation and remains a model for others, thanks to Professor Joynt's vision and energy."
The department boasts the oldest hands-on science museum in the country — a claim we now feel confident making thanks to Joynt's extensive research on the history of the Ingersoll Physics Museum for its 100th anniversary in 2018. The museum and physics outreach in general have always been important to Joynt. He has served in an informal capacity as faculty lead for the museum for several years now, helping to raise funds and ensure the museum fulfills its mission of providing free, hands-on, inquiry-based exhibits.
When asked what he wanted to be remembered for in the department, Joynt reflected on lessons from his career and then looked forward: "My advice to the department is: do new things. Don't be afraid of change. Science changes, education changes, all these things are changing, and you need to change with them."
Joynt's retirement is official as of July 31, but he emphasizes that he is only retiring from administrative and teaching duties. He plans to continue his research efforts, sometimes in Madison and often abroad.
Mark Friesen, a senior scientist and long-time collaborator of Joynt's, says he looks forward to continuing to work with Joynt in this new stage of his career, adding:
"When I joined the department, I knew Bob through reputation as one of the bright condensed matter physicists of his generation. I feel very fortunate to have worked with him, first as a mentor, and later as a colleague. Bob has a tremendous intuition for condensed matter that spans far beyond his immediate research efforts. He also has an easy-going and gracious style that draws in collaborators, and he is just fun to interact with, both inside and outside the department."