This post was adapted from a story posted by the UW–Madison Graduate School
Two UW–Madison graduate students, including physics grad student Margaret Fortman, have been awarded 2022 Google Fellowships to pursue cutting-edge research. Fortman received the 2022 Google Fellowship in Quantum Computing, one of only four awarded.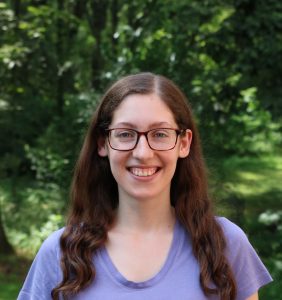 Google created the PhD Fellowship Program to recognize outstanding graduate students doing exceptional and innovative research in areas relevant to computer science and related fields. The fellowship attracts highly competitive applicants from around the world.
"These awards have been presented to exemplary PhD students in computer science and related fields," Google said in its announcement. "We have given these students unique fellowships to acknowledge their contributions to their areas of specialty and provide funding for their education and research. We look forward to working closely with them as they continue to become leaders in their respective fields."
The program begins in July when students are connected to a mentor from Google Research. The fellowship covers full tuition, fees, and a stipend for the academic year. Fellows are also encouraged to attend Google's annual Global Fellowship Summit in the summer.
Fortman works to diagnose noise interference in quantum bits
Fortman, whose PhD research in Victor Brar's group specializes in quantum computing, will use the fellowship support to develop a diagnostic tool to probe the source of noise in superconducting quantum bits, or qubits.
Quantum computing has the potential to solve problems that are difficult for standard computers, Fortman said, but the field has challenges to solve first.
"The leading candidate we have for making a quantum computer right now is superconducting qubits," Fortman said. "But those are currently facing unavoidable noise that we get in those devices, which can actually come from the qubit material itself."
Fortman works with a low-temperature ultra-high vacuum scanning tunneling microscope on the UW–Madison campus to develop a microscopic understanding of the origins of noise in qubits. She fabricates superconductors to examine under the microscope to identify the source of the noise, and hopefully be able to develop a solution for that interference.
In her time as a graduate student at UW–Madison, Fortman said she has enjoyed collaborating with colleagues in her lab and across campus.
"It's pretty cool to be somewhere where world-renowned research is happening and to be involved with that," she said. "My PI and I work in collaborations with other PIs at the university and they're all doing very important research, and so it's really cool to be a part of that."
Fortman is excited to have a mentor at Google through the PhD Fellowship, having been paired with someone who has a similar disciplinary background and who is a research scientist with Google Quantum AI.
"He can be a resource in debugging some parts of my project, as well as general mentorship and advice on being a PhD student, and advice for future career goals," Fortman said.
The second UW–Madison student who earned this honor is computer sciences PhD student Shashank Rajput, who received the 2022 Google Fellowship in Machine Learning.