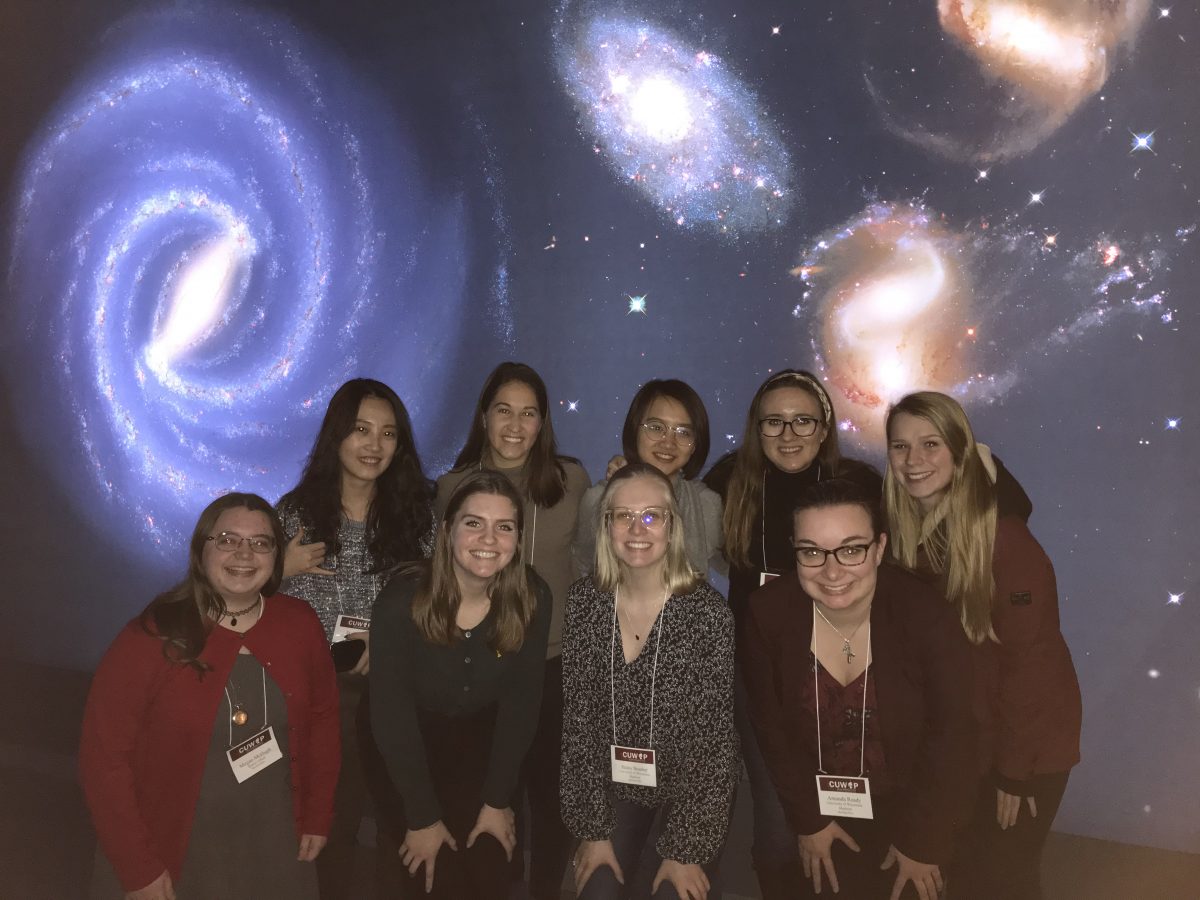 UW–Madison sophomore Haley Stueber did not always know she wanted to study physics, but she had an inkling.
"I started taking astronomy and physics classes in high school, and what really got me into physics was the astronomy aspect," Stueber says. "I was always of the mindset that I wanted to keep learning, and I felt like the realm where I could do that was space, because the universe is so big."
Like most women interested in pursuing a physics major, Stueber noticed something when she started college.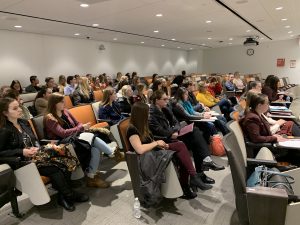 "All of my physics courses are predominantly male," she says. "It was intimidating at first. I've definitely gotten more used to it, but it still just kinda sucks looking around the room and being like, 'Alright, there's one woman over there, one in that corner, and me.'" She notes that the male majority in her classes has not been largely problematic, but it would be nice to have more of a female presence.
Stueber's experiences are similar to those of many women physics and physical science majors. According to Joelle Corrigan, a physics graduate student and president of GMaWiP, a UW–Madison organization for Gender Minorities and Women in Physics, only around 20 percent of undergraduate physics majors are women.
In an effort to support and retain women in physics, the American Physical Society hosts the Conference for Undergraduate Women in Physics (CUWiP). This year, 10 UW–Madison undergraduates, along with Corrigan and physics grad student Abigail Shearrow, attended the Midwest regional CUWiP, held January 17-19 and hosted by the University of Minnesota–Twin Cities.
"It is a very rare, empowering experience to be in a packed auditorium filled with women and gender minorities all excited about physics," Corrigan says of the annual conference, which she first attended as an undergraduate. "They have many talks from amazing female scientists, sharing their work and providing role models to many students who may not have seen successful females in that role previously."
Stueber concurs with Corrigan that it was helpful to see and meet women in the research labs they toured or heard speak during the conference — every presenter was a women scientist. Katy Jurgella, a junior astrophysics and geology major who is only now taking her first physical science course with a female professor this spring, agrees.
"Every presenter who talked about their research also gave an overview of their life story. If you see just their research, you're like, 'Oh, wow, this woman has a PhD in astrophysics, I'll never get there,'" Jurgella says. "But then they mention they were born on a farm and I was like, 'I was born on a farm, too!' It was inspiring to me."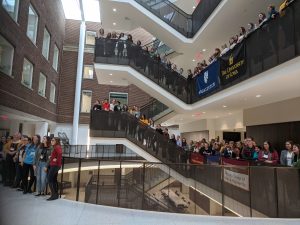 While one focus of the conference was on research, an equal emphasis was given to professional development, including topics that often strongly apply to women.
Junior AMEP major Gabby Every says, "I went to breakout sessions this year on imposter syndrome, negotiation techniques for women specifically, well-being, work-life balance, and one on grad school. It was a catch-all of issues faced by women specifically."
Anna Gerosolina, a junior astrophysics and chemistry major who currently has no plans to attend graduate school, says the professional development sessions were very helpful because they did not solely focus on women in academia issues.
"There was one talk about being a woman in the workforce in general, and how you need to be a little more aggressive. But it's a hard balance because a lot of times we come across as bossy even though it comes across as great when guys are aggressive," Gerosolina says. "That really stuck with me. It was basically, just stop apologizing for existing. And I didn't even realize how much I did that."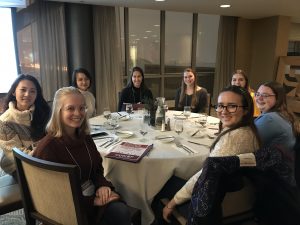 The Midwest regional CUWiP was held January 17-19, just before the spring semester began. The students who attended have already noticed a difference in how they approach their courses, professors, and classmates.
"Even two weeks into the semester, I've noticed I'm better at asking questions in class because I'm less afraid," says Jurgella. "At the conference, they stressed, 'Don't be embarrassed if you don't know something, because no one knows anything!' It's helped me remain humble, but I'm also less embarrassed now to ask about something I don't know."
All the women spoke of the support they now have from their fellow attendees, such as studying together, working together on projects, and just sharing experiences as women in the physical sciences.
"The conference is a great environment because sometimes I forget how reserved I can be in a room full of dominant male voices," says Every. "Once you're surrounded by all these women who feel the same way and have gone through similar things, you come out of your shell and talk about things that really matter to you."
Adds Gerosolina, "These are women I can study with and not be mansplained about how to do basic physics. We even have a Snapchat group chat now!"