This post is adapted from the original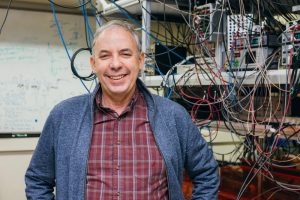 Thirty-two members of the University of Wisconsin–Madison faculty — including physics professor Mark Saffman — have been awarded fellowships from the Office of the Vice Chancellor for Research and Graduate Education for 2022-23. The awardees span the four divisions on campus: arts and humanities, physical sciences, social sciences and biological sciences.
"These awards provide an opportunity for campus to recognize our outstanding faculty," says Steve Ackerman, vice chancellor for research and graduate education. "They highlight faculty efforts to support the research, teaching, outreach and public service missions of the university."
The awards are possible due to the research efforts of UW–Madison faculty and staff. Technology that arises from these efforts is licensed by the Wisconsin Alumni Research Foundation and the income from successful licenses is returned to the OVCRGE, where it's used to fund research activities and awards throughout the divisions on campus.
Mark Saffman was awarded a WARF professorship. These professorships come with $100,000 and honor faculty who have made major contributions to the advancement of knowledge, primarily through their research endeavors, but also as a result of their teaching and service activities. Award recipients choose the names associated with their professorships. Saffman, the Johannes Rydberg Professor of Physics and director of The Wisconsin Quantum Institute, first began work on atomic physics and initiated a long-term effort to develop quantum computers. He is known for his research as a leader in the ongoing development of atomic quantum computers based on the Rydberg blockade mechanism.
In addition, physics affiliate professor Mikhail Kats received a Romnes Faculty Fellowship.