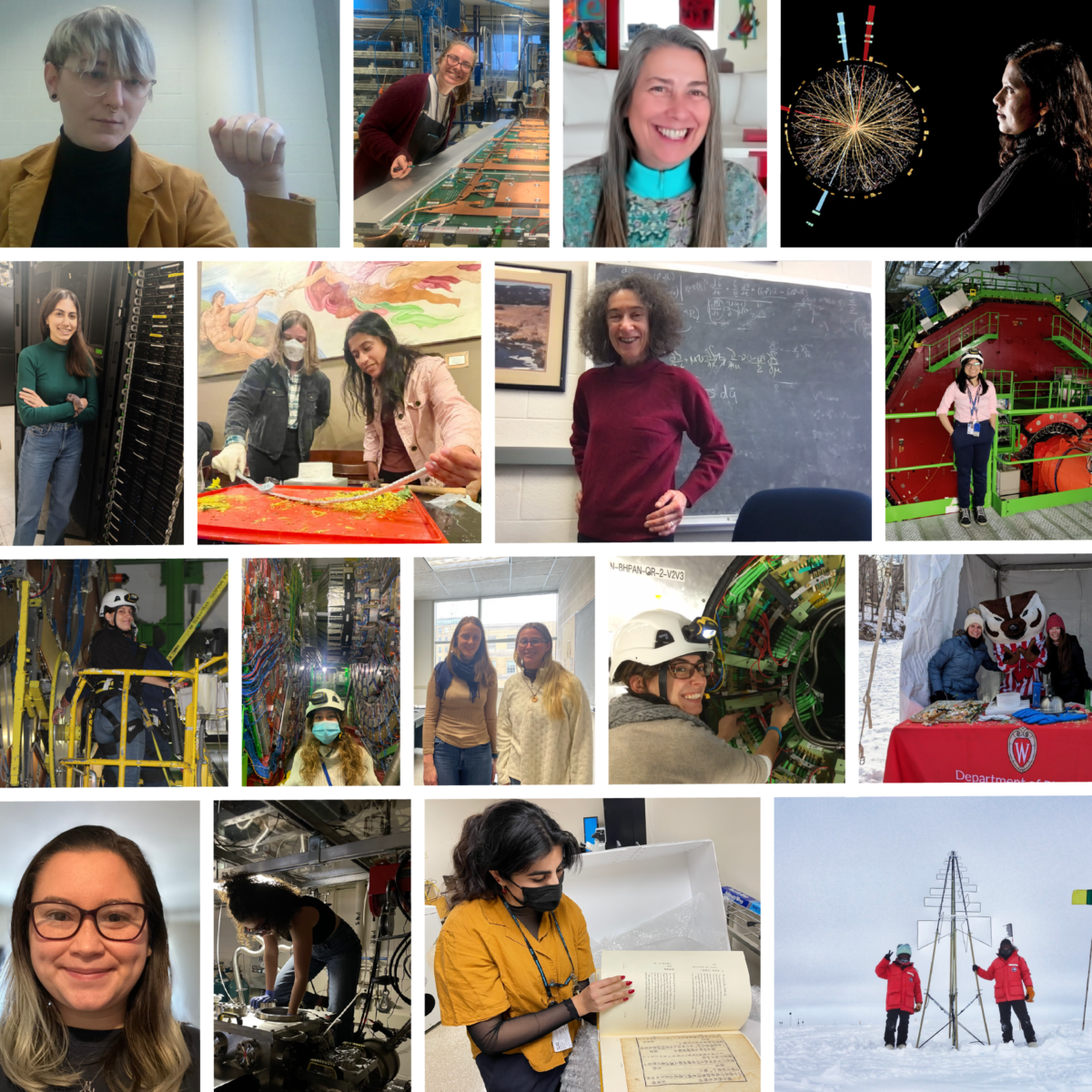 February 11 is the International Day of Women and Girls in Science, and we're more than happy to showcase some of our women physicists! We collected photos from women in the department, which you can see in a collage above. Some women also chose to share a bit about their research and/or what being a woman in science and woman in physics means to them. Those quotes are below.
Abby Warden, graduate student
My name is Abby Warden, a 5th year graduate student working in experimental high energy physics. My current work includes assembling Gas Electron Multiplier (GEM) chambers for electronics testing. GEMs are the newest muon sub detector that will be installed in the general particle detector, the Compact Muon Solenoid (CMS).
Dr. Camilla Galloni, Post-doc 
Seen some muons? Working on the muon detector of the CMS experiment: GE11 installed in 2020 and successfully operated is the precursor of the GE21 and ME0 detectors now being constructed for the high luminosity LHC upgrade. This big "camera" takes "snapshots" of particles produced in high energy proton collisions and helps understand the fundamental interactions of nature.
Elise Chavez, graduate student
I've always been drawn to figuring out how the world works and it led me to my research and passion of learning how the universe works fundamentally at the subatomic level. I work with the Compact Muon Solenoid (CMS) that lies along the Large Hadron Colider (LHC) at CERN in Geneva. Being a woman in physics is a strange duality. There are times when I feel empowered and times I feel very small. It is strength, confidence, and understanding, but it is also alienating, discouraging, and conflicting. It has taught me a lot about people and myself. It gave me a passion to help and support women and minorities in physics because it is for everyone. Diversity is what helps discovery thrive and I hope one day that it can be solely an uplifting experience.
Dr. Charis Koraka, post-doc
Curiosity, along with kindness and compassion are some of the greatest human qualities and those that make societies prosper. The quest of understanding the laws and properties of the universe, has always been a driving source and what made me turn to physics. With perseverance, nothing is impossible!
Wren Vetens, graduate student
My experience as a woman in physics has been marked by perseverance, community, and solidarity. There is still much to be done to achieve equality within the field of physics but we can do our part by standing up for and supporting each other, especially supporting our juniors and those who are disabled, LGBTQ+, and/or POC. I chose physics because I am compelled to always look deeper when I have questions about the nature of life, the universe, and everything. The very same drive that led me to study Physics also led me to coming to terms with my own identity as a queer person, nonbinary person, and transgender woman. Suffice to say, I would not be who I am today without physics or without my gender, and really the two are simply manifestations of that drive. I am currently wrapping up my PhD in experimental particle physics as a part of the CMS collaboration and hoping to graduate this year. My research topic is a search for the unique signature of a long-lived composite particle made of six quarks, which could in principle be produced at the LHC and detected with the CMS detector.
Prof. Tulika Bose
I am an experimental particle physicist working on the CMS experiment at the Large Hadron Collider. I love being part of a large international physics collaboration looking to answer some of the most fundamental questions in physics today – what is responsible for dark matter ? What is the matter-antimatter asymmetry in our universe due to ? Are there new exotic particles out there ? We try to answer these questions using our detector, cutting-edge instrumentation, modern software (incorporating Artificial Intelligence/Machine Learning) and high-performance computing!
(for a video describing Prof. Bose's work, please see: https://www.youtube.com/watch?v=E7Kzx2xZFdc)
Prof. Ellen Zweibel
I study plasma astrophysics: how electric and magnetic fields interact with charged particles in astrophysical systems. This is an incredibly broad field and I enjoy all of it  –  how sunspots and solar flares work, how a single proton can acquire the energy of a hard hit tennis ball, and what the blotchy rings imaged around supermassive black holes are really telling us, to give just a few examples.

Having the time and capacity to study these things has been an incredible privilege. I'm grateful to my parents, who thought my mind was worth developing, and to  my many wonderful teachers, colleagues, and students – I hope I do as well by them as they did and do by me. I'm grateful to the social infrastructure that gave me food, water, and shelter, cured my illnesses, and allowed me reproductive freedom of choice so I could become a person who lives her dreams.
Haddie McLean, outreach specialist
I love that my job allows me to bring physics to children, our next generation of scientists. I want to show them that physics is fun and it's for everyone. I hope to inspire them to pursue a career in science.