Mark Eriksson has been named the John Bardeen Professor of Physics, through the Wisconsin Alumni Research Foundation (WARF) named professorship program.
The WARF named professorship program provides recognition for distinguished research contributions of the UW–Madison faculty. The awards are intended to honor those faculty who have made major contributions to the advancement of knowledge, primarily through their research endeavors, but also as a result of their teaching and service activities.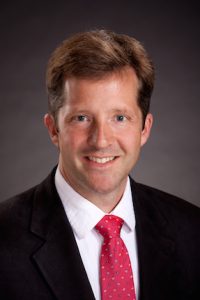 Eriksson joined the UW–Madison physics faculty in 1999. His research has focused on quantum computing, semiconductor quantum dots, and nanoscience. He currently leads a multi-university team focused on the development of spin qubits in gate-defined silicon quantum dots. A goal of this work is to enable quantum computers, which manipulate information coherently, to be built using many of the materials and fabrication methods that are the foundation of modern, classical integrated circuits.
"If you look back at my work here over the last, it'll be 21 years in August, it's almost all been collaborative, and I've really enjoyed the people I've worked with," Eriksson says. "Going into the future, those collaborations are going to continue, of course. We have a real opportunity to see what semiconductor fabrication technology can do for qubits and quantum computing — how can we make really high-quality, silicon qubits in a way that leverages and makes use of the same technology that people use to make classical computer chips?"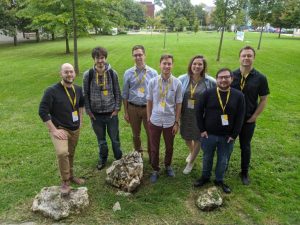 Eriksson's past and present UW–Madison collaborators include, in addition to many students and postdocs, physics professors Victor Brar, Sue Coppersmith, Bob Joynt, Shimon Kolkowitz, and Robert McDermott; physics senior scientist Mark Friesen; and materials science and engineering professor Max Lagally and scientist Don Savage.
The WARF program asks recipients to choose the name of their professorship. Eriksson, who graduated with a B.S. in physics and mathematics from UW–Madison in 1992, chose fellow alum John Bardeen — a scientist who has the unique honor of being the only person to receive the Nobel Prize in Physics twice.
"Bardeen was one of the inventors of the transistor, and I work with semiconductor qubits which are very similar to transistors in many ways," Eriksson explains. "It seemed appropriate to choose him, because he was an alum of the university, he's a Madison native, and he was co-inventor of the transistor."
Eriksson was one of 11 UW­–Madison faculty awarded WARF named professorships this year. The honor comes with $100,000 in research funding over five years.
"Prof. Mark Eriksson is a world-leading expert in the development of quantum information systems using solid-state quantum dot qubits," says Sridhara Dasu, physics department chair. "Recognition of his successes in research and his contribution to the training of researchers in this increasingly promising area of quantum information, through the awarding of WARF professorship, is much deserved."